One of the primary considerations when it comes to moving CCTV to the cloud is pricing. As with concerns regarding bandwidth requirements and security, the assumption that cloud CCTV is expensive is just another common myth. In fact, not only is cloud storage itself not necessarily expensive, there are other factors that impact cloud CCTV cost. Read on to find out more about cloud CCTV pricing, and how it actually lowers the total cost of ownership of a security system.
Total cost of ownership and costs you can avoid by deploying cloud CCTV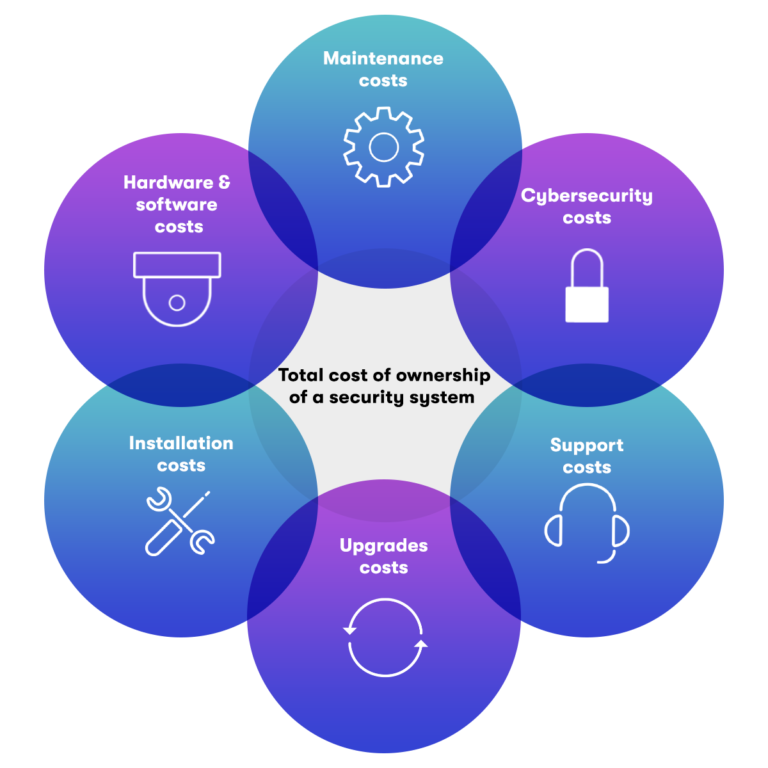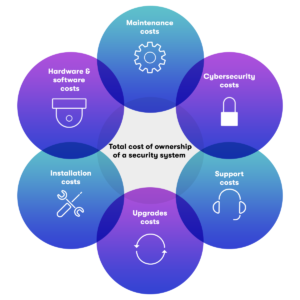 When thinking about getting a security system, many will assume the only cost associated with it is buying the equipment and installing it. Security professionals will know there's much more to it. The total cost of ownership of a security system is much higher than the upfront price. In addition to the hardware and installation cost, total cost of ownership also includes other operational costs such as the cost of storing the footage, maintenance, upgrades and support. Interestingly, cloud can help reduce many of those costs. 
Cloud can minimize upfront costs 
To begin with, moving to cloud CCTV means you can reduce the upfront costs of a surveillance system. Cloud based security systems don't require extensive on-premise equipment (such as complex VMS systems and recorders), making the installation simpler. This means reduced labor time, meaning you won't have to be onsite for as long and won't need to charge the customer for as many hours. In addition, cloud enables you to eliminate certain hardware and software components, such as recorders or expensive VMS systems. All this combined makes cloud not only less complex, but also cheaper to purchase, install and maintain.
Cloud can reduce storage costs
The video surveillance industry is constantly growing and the demand for it is expected to skyrocket over the next 5 years. As the number of CCTV cameras increases, so does the amount of recorded video and data associated with it. All this leads to higher storage costs. For example, on average organisations who store their CCTV footage locally pay around $350,000 to store just 100 terabytes of data annually. And that's where cloud comes into play. 
Storing CCTV footage on the cloud can offer huge cost saving opportunities. To begin with, contrary to the popular myth, cloud storage itself isn't pricey. The biggest part of the cost is actually sending the video up to the cloud, and not the amount of time the video is stored for. In fact, cloud CCTV pricing doesn't rise exponentially. For example, storing video for 60 days isn't going to be twice the cost of storing it for 30 days. 
In addition, cloud solutions are more flexible than traditional security systems. They are designed to allow scaling, both up and down, which helps manage the costs. Depending on requirements, cloud storage plans can be easily adjusted, either by upgrading or downgrading cloud plans. Cloud also allows you to be clever about what video you store. While the majority of cloud providers have continuous 24/7 recording options, cloud based motion detection software allows you to only store the video when motion is detected on camera. In conclusion, cloud storage means you pay for what you use, ultimately saving you money.
Cloud and its impact on other operational costs
Cloud video surveillance also impacts operational costs. If you're using a traditional system, the only way to benefit from any software upgrades is by either updating or replacing the hardware. Updates most likely cause downtime, whereas buying new hardware is obviously an additional cost. Furthermore, maintaining a traditional security system can be expensive. With cloud systems, on the other hand, cloud providers manage any upgrades or maintenance remotely and with no hardware replacement. 
Finally, many cloud providers include support, so if anything goes wrong, the cloud provider will handle it. In addition, some cloud providers, such as Videoloft, also do system health checks continuously and will notify you if your customers' cameras go offline for any reason. This means you will be aware of the problem before your customers even notice it. This not only helps to reduce the downtime, but also ultimately increases the overall security. 
Cloud CCTV pricing plans
To sum up, cloud can save you and your customers money – sometimes even up to 45% versus a traditional system (not to mention all the other benefits!). In addition to these savings for your customers, cloud provides an opportunity to add recurring revenue to your business.
Videoloft offers cloud plans to their partners at trade list prices, allowing you to add margin before charging the customer. Videoloft can also handle the end customer billing for you, paying your commission straight into your bank account. Trade prices are accessible to registered Videoloft partners, so if you want to find out more join the Videoloft partner program for free. Registering as a partner will also give you access to our free eBook about cloud myths.