When it comes to cloud based CCTV, bandwidth requirements are one of the fundamental elements to consider. As with any other internet reliant technology, understanding bandwidth for cloud based security systems is critical.
Security professionals are often resistant to adopting cloud CCTV, as they're concerned that the bandwidth requirements of video are too great. For example, what if the site is remote and has no access to fixed broadband? Or, if the site relies on ADSL connection, but has multiple cameras recording simultaneously, will the broadband cope? While it's true that transmitting video can load the network, it's not necessarily a show stopper. Furthermore, the opinion that low bandwidth isn't capable of supporting cloud CCTV is yet another myth. In fact, the reality is often the complete opposite.
Is your internet fast enough to support cloud based CCTV?
When it comes to CCTV, there are a number of factors impacting bandwidth usage. The bandwidth required depends on the number of cameras and the bit rate of the video, which in turn depends upon its resolution, frame rate and the video compression settings of the camera. You can optimize cloud CCTV systems for real world networks by adjusting those elements. For example, Videoloft's dynamic frame rate, bit rate and resolution adjustment ensure all recorded video is sent to the cloud, even in poor network conditions.
Record on motion only
Cloud uses a lot less data than you think, especially if you only save motion events to the cloud. Not only will this reduce bandwidth usage, but also reduce storage usage. By default, Videoloft records on motion, and on average this results in 2.5h of video per day. Moreover, in our experience, the average data usage in the field is approximately 0.5 GB a day per camera. However, motion triggered recording may not be an option for every customer. For example, some customers may want scheduled or continuous recording, whether it be for personal reasons or regulatory requirements. Naturally, continuous recording consumes more bandwidth than motion recording, but there are other factors at play. 
Adjust the bit rate
As IPVM puts it: "Bandwidth is like vehicle speed. It is a rate over time." Therefore, bit rate impacts cloud CCTV bandwidth requirements. As mentioned previously, cloud CCTV can be optimized for real world networks. For instance, in our experience the majority of cameras in the field require a bit rate of only 400-600 kbps per camera. However, we'll automatically adjust it if there are restrictions to the bandwidth.  
Change the resolution 
The greater the resolution, the harder it becomes to compress the video to a low bit rate, and so the greater the impact on the network. Therefore, if you're looking to reduce the bandwidth requirements for cloud CCTV, you should lower the resolution. Videoloft lets you choose between two resolutions, which are both suitable for transmission across the Internet up to the cloud. We offer two recording modes: standard definition (SD – 360p) and high definition (HD – 1080p). If you select to send SD video to the cloud, Videoloft can also take a very high res still image for each motion event at the maximum resolution of the camera. For some sites, this'll be preferable to sending HD video to the cloud, as the SD video shows you what happened, while the Max Res Still provides fantastic detail. If you're recording higher than 1080p locally to an NVR, then you should always select Videoloft's SD mode.

Test your upload speed
Another perk of the Videoloft app is that you can use it to test the upload speed at customers' site. In other words, whether the bandwidth can cope with the number of cameras you're planning to install. To check the network upload speed, from the app's main menu tap on 'Tools', then 'Speed test'. This will automatically start the upload speed test and takes less than a minute. Once the test is complete, the app will advise you on the optimal as well as a maximum number of cameras.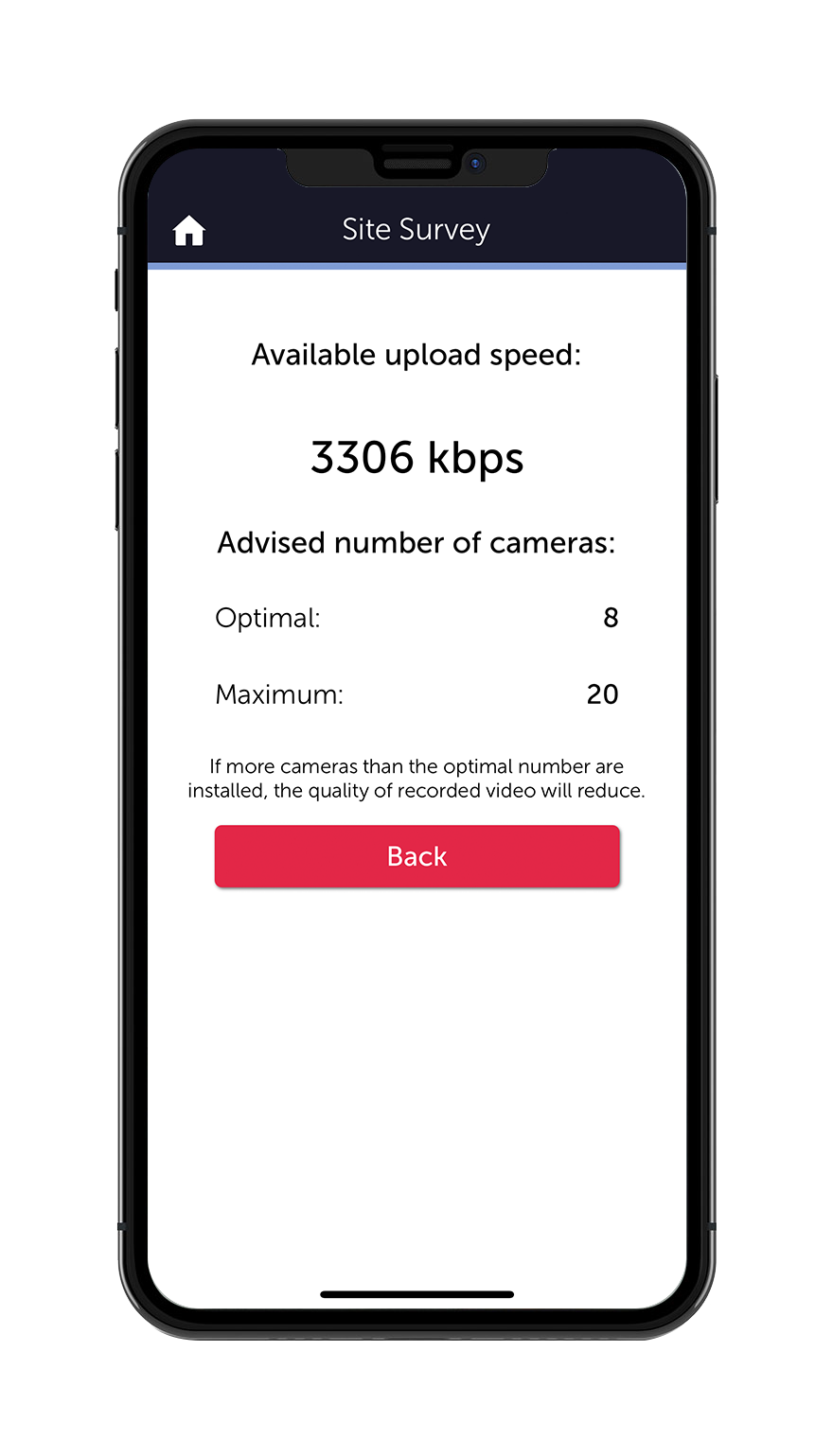 Case study: Remote mine protected using Videoloft cloud
Low bandwidth isn't a barrier for cloud based CCTV, and a good example of this is a story of one of Videoloft's many customers. With expensive machinery and a remote location, security at a mining company's site in South Africa was a top priority. Needing CCTV and intrusion detection at their perimeter they contacted one of Videoloft's installers. As the internet connection was provided using 3G, bandwidth usage had to be kept to a minimum. 
Using Videoloft's SD video and high resolution stills recording mode allowed for reduced bandwidth usage, but also maintained the integrity of the security solution. This reduced the bandwidth used to send the recordings to the cloud, but provided the client with high quality 5MP images for each motion event. In addition to this low bandwidth mode, the Videoloft software running on the cameras constantly monitored the network connection. It dynamically adjusted the video bitrate if the network struggled to ensure that video can always be sent to the cloud. Both the security professional and the client were satisfied with the solution, and quality of the site's security wasn't compromised.
Bandwidth concerns shouldn't stop you from adopting cloud CCTV
To sum up, regardless of the type of internet you're using, bandwidth requirements for cloud based CCTV aren't insurmountable. Depending on your customers' requirements, you can adjust some (or all) of the above discussed elements to lower the impact on bandwidth. Despite various benefits of cloud CCTV, its flexibility and scalability alone are sufficient for you to consider moving to cloud.
Are you a security professional looking to add cloud to customers' security systems? Learn more about our free partner program for security installers, integrators and dealers.